As a poor, poor student I have tried to find a way to use natural and organic products but with a low budget. While browsing the isles of Bodycare, a place to buy beauty and bath products at a discounted price, I came across the Inecto Pure Coconut range. Inecto describe themselves as "nature's answer to revitalising dry hair and skin. Enhance the natural you with our collection of exclusive hair, skin and bodycare products, you'll find we have something for everyone."
I have now sampled a fair amount of products by Inecto, and have repurchased some items a couple times so thought it was about time I shared my thoughts.
Description
"Moisture Replenishing Body Lotion contains 100% pure coconut oil to replenish moisture, leaving dry skin soft, smooth and conditioned."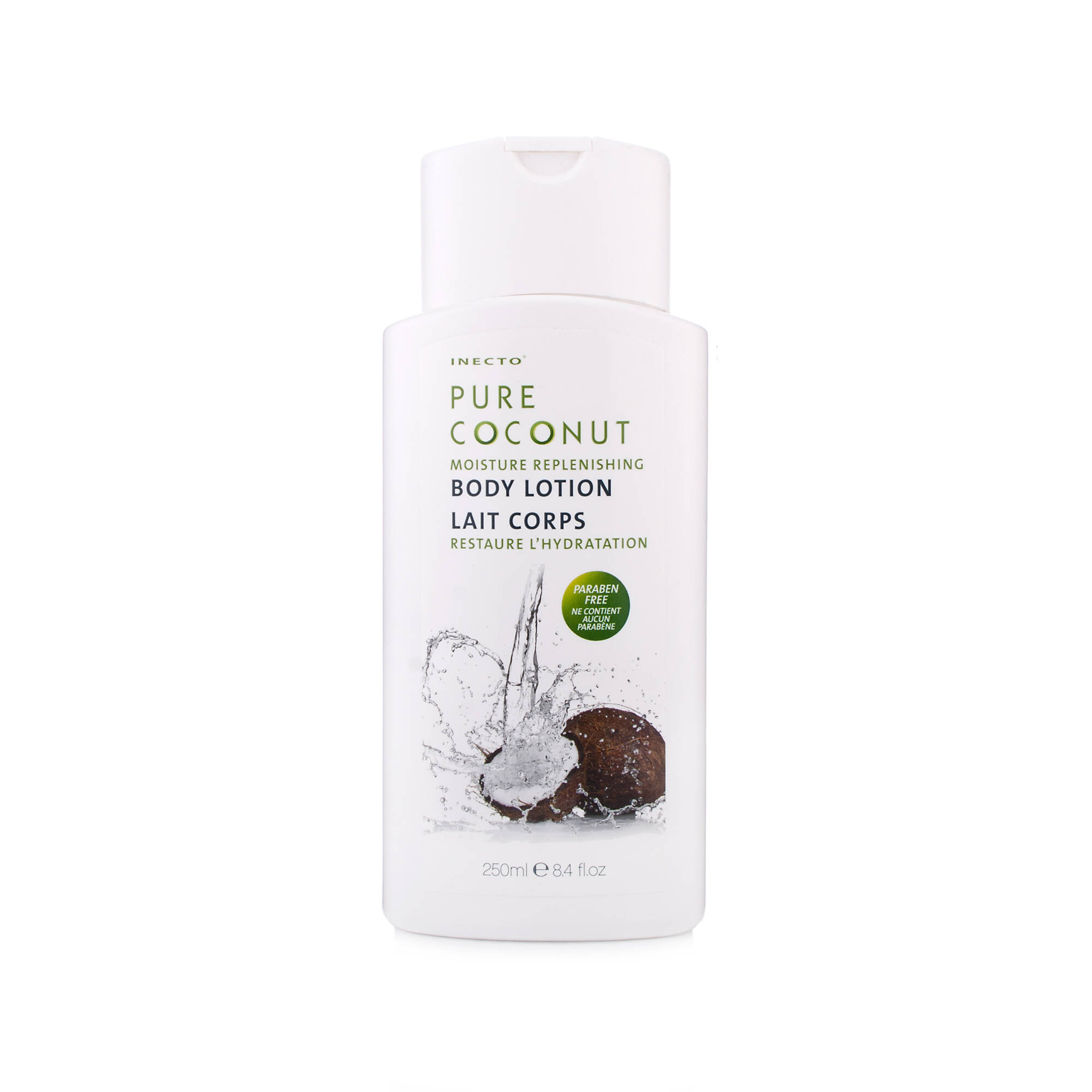 Price
£1.99 in Bodycare
Packaging
Plain white bottle. 250ml. Fairly average. Secure top.
Liked
*Non greasy, as described on bottle.
*Skin feels soft and moisturised.
*Bottle lasts ages.
*Smells of coconut, so if you like coconut like me, is amazing.
*Sinks in really quickly.
Disliked
*I'm not a fan of the packaging. Makes the product look lower quality.
Recommended for:
People who want a good everyday lotion. No frills but it does what it says on the packaging.
Repurchase?
Definitely. For £1.99, its a bargain. Great for when I'm at uni!
Rating
8/10 - Great product. My go-to daily lotion.
Description
"

Inecto Pure Coconut Moisture Infusing Shampoo softens and revitalizes the hair. Contains 100% Pure Coconut Oil to cleanse and nourish dry damaged hair to leave it shiny, soft and easy to manage

."
Price
£1.99 in Bodycare.
Packaging
Same packaging runs through range. 500ml. A lot of product.
Liked
*The smell of coconut.
*My hair felt thoroughly washed.
*The bottle lasted forever.
*Hair looked shiny and felt fairly soft.
Disliked
*The shampoo could have been slightly richer and more moisturising. I wouldn't use the shampoo without following with a conditioner.
Recommended for:
An everyday shampoo. If I wanted my hair to look great for a special occasion, I'd consider using an alternative shampoo. My hair is quite dry and frizzy naturally so sometimes needs an extra boost.
Repurchase?
Indeed. I have in fact repurchased this shampoo on several occasions.
Rating
7.5/10. I'm not raving over it, but I'm not complaining about it either.
Description
"Inecto Pure Coconut Moisture Infusing Conditioner that nourishes hair and smooths frizz. Contains 100% pure coconut oil to smooth and nourish dry, damaged hair. Paraben free."
Price
Again, £1.99
Packaging
Identical to the shampoo. Make sure you don't pick up two shampoo bottles by mistake!
Liked
*Cost per use is fantastic. I have a lot of hair, and this conditioner lasts me a long time!
*Yummy yummy coconut scent (again)
*Hair felt hydrated and soft when used with matching shampoo
Disliked
*My hair needs that extra nourishment, I'd love it if the conditioner gave it a little bit more.
Recommended for:
People who want a lightweight conditioner.
Repurchase?
I have repurchased this item along side the shampoo several times. I can't resist the cheap price.
Rating
6.5/10. Not perfect, but good enough that I have bought it again.
Description
"Moisturising Body Wash. Paraben free. Contains 100% pure coconut oil to cleanse and pamper dry skin. Mild, gentle and pH balanced, its unique formula leaves skin clean and soft."
Price
...£1.99 if I remember correctly. Possibly £1.49
Packaging
Same label as before. 200 ml.
Liked
*Easy to get out of bottle.
*Smells amazing.
*Left me feeling fresh and clean.
Disliked
*Unlike the other products, this one ran out very quickly. It didn't even last me a week.
*I wouldn't recommend it for shaving with. Caused slight irritation on my legs. I think its because you don't get a lather from the product due to there being no SLS in it.
Recommended for:
*A quick everyday wash. As stated before, not suitable for shaving with.
Repurchase?
Probably not for the fact it ran out so quickly.
Rating
5/10.
The most disappointing product out of the selection I tried.
OVERALL BRAND RATING
7.5/10
I think these products are good. Some better than others but you get that with every brand. I'm keen to try out their other products. They are extremely low priced and I think the price shouldn't put you off, you might be surprised. They are great everyday products.
BUY FROM
I buy them in Bodycare but get them cheap online too. Prices may vary, available from:
http://www.chemistdirect.co.uk/inecto_7_5238.html